Indigenous Veterans Day is celebrated every year on November 8th.
Did you know....
1) That Indigenous people were not allowed to enlist until 1915?
2) About one third of First Nations people in Canada age 18 to 45 enlisted during World War One. Métis and Inuit soldiers also enlisted; however, only status Indians were officially recorded by the Canadian Expeditionary Force (CEF)
3) Many Aboriginal people distinguished themselves as talented and capable soldiers and at least 50 were awarded medals for bravery and heroism.
4) That until 1995 Indigenous Peoples were not allowed to lay a wreath at the National War Memorial?
5) That Indigenous (Aboriginal) Veterans Day was founded in Winnipeg in 1994 as a direct result of the edict under the Indian Act.
Aboriginal People in the Canadian Military - A Study
This is an honest and eye opening look at Indigenous soldiers. It delves into how they were treated by their country when they returned from war. From losing their land to being disenfranchised. They could now vote, but they were no longer considered Indians.
2018 was the first time our Association hosted Indigenous Veterans Day. To see what the day was all about please visit the Projects Page at MotorcycleTourism.Ca or this link on Facebook :
Our Radio Commercial on CFWE FM - Windspeaker Radio
Our Commercial on 2DAY FM - Vista Radio
We share this poem in honour of the Cree Speaking veterans of many wars.
Thanks to Jean Okimasis and Arok Wolvengrey for sharing their Plains Cree translation based on the Woods Cree Translation by Minnie McKenzie. (CreeLiteracy.org)
Charles "Checker" Tompkins and his brother Peter of Grouard Alberta played a pivotal role in World War Two as Cree Code Talkers. We will Remember Them
This documentary shares stories from First Nations war veterans of Nishnawbe Aski Nation. Nishnawbe Aski Nation Grand Chief Stan Beardy, Veteran Ian White of Chapleau Cree First Nation, Veteran Jack Wynne of Moose Cree First Nation, Elder Isabelle Mercier and Ranger Sgt. Peter Moon remind us that our freedom should not be taken for granted www.catchlightvideo.com
At this moment, we have identified 5 Metis soldiers from our region, and and 8 Cree Soldiers from our region, who were killed in action. The service panels for our Metis soldiers are completed and translated in Cree and French, please see below.
The service panels for our 8 more Cree speaking soldiers will be translated and created as we have the funds to do so.
They are:
Noskeyi, Benjamin Joseph
Chalifaux (aka Chaifoux) , Joseph
Versailles, Peter
Wabisca, Emery
Norris, Russell John
Poitras, Thomas (Metis)
St. Germain, Joseph Flavian (Metis)
To learn more about the service and sacrifice our Canada's Indigenous visit:
Aboriginal Veterans: Honour Roll
Regional World War One Killed in Action Metis Soldiers
Harry Knibb, Grouard Alberta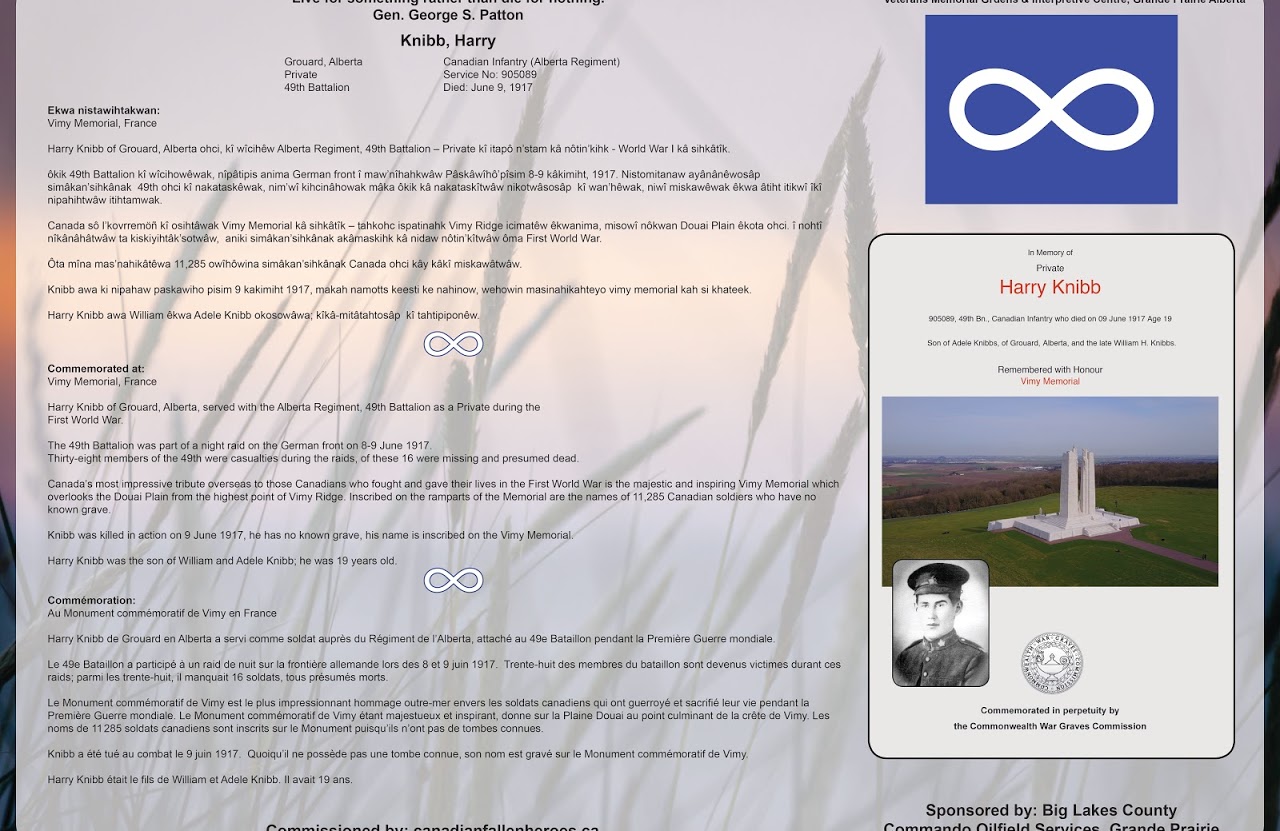 John H. Pruden, Vanrena Alberta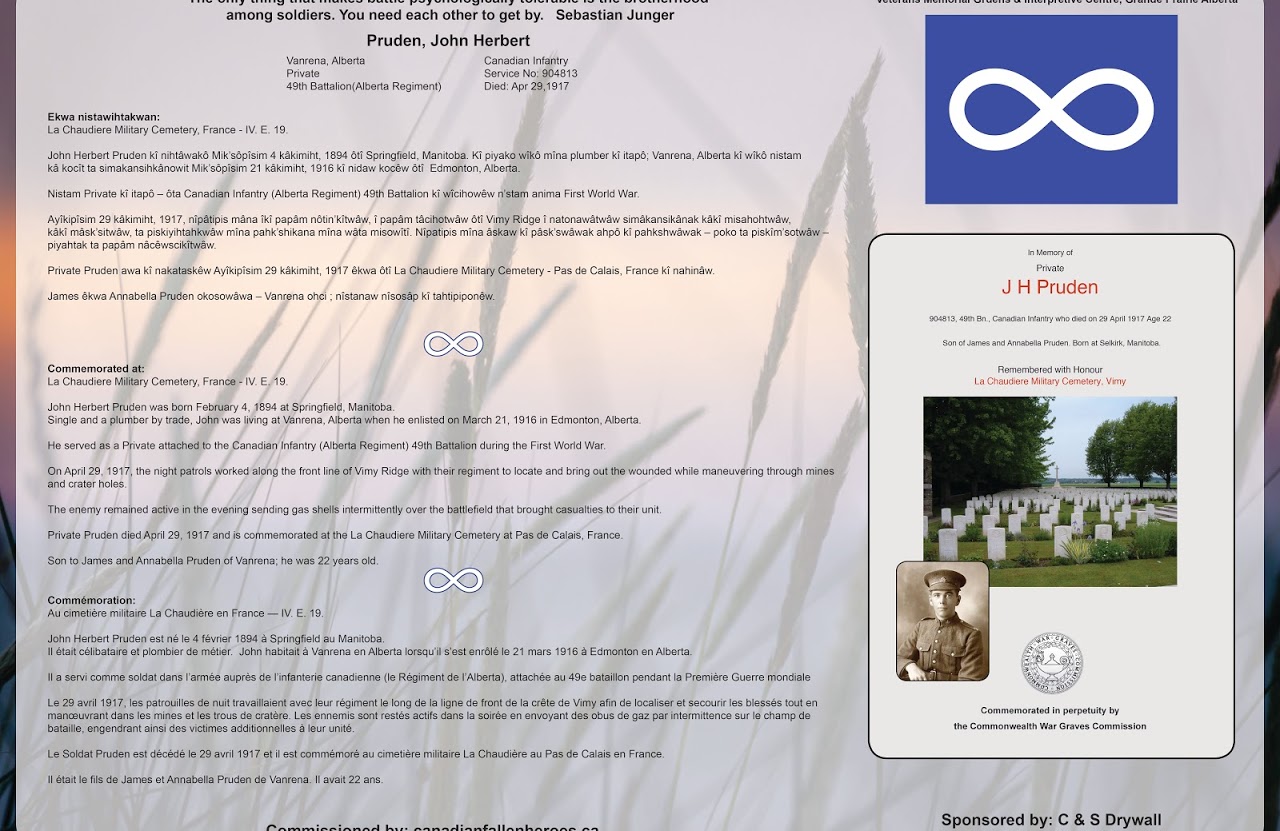 Stanley H Pruden, Vanrena Alberta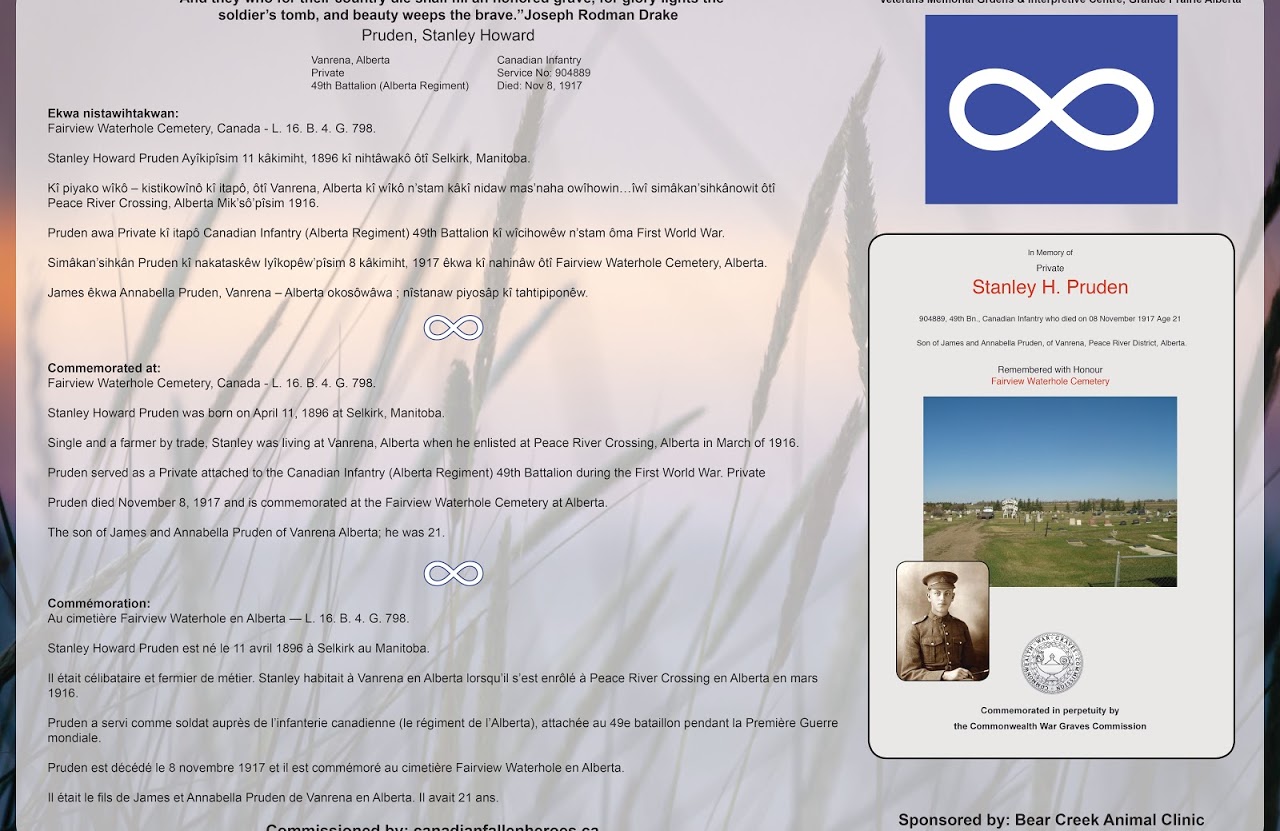 Regional World War Two Killed in Action Metis Soldiers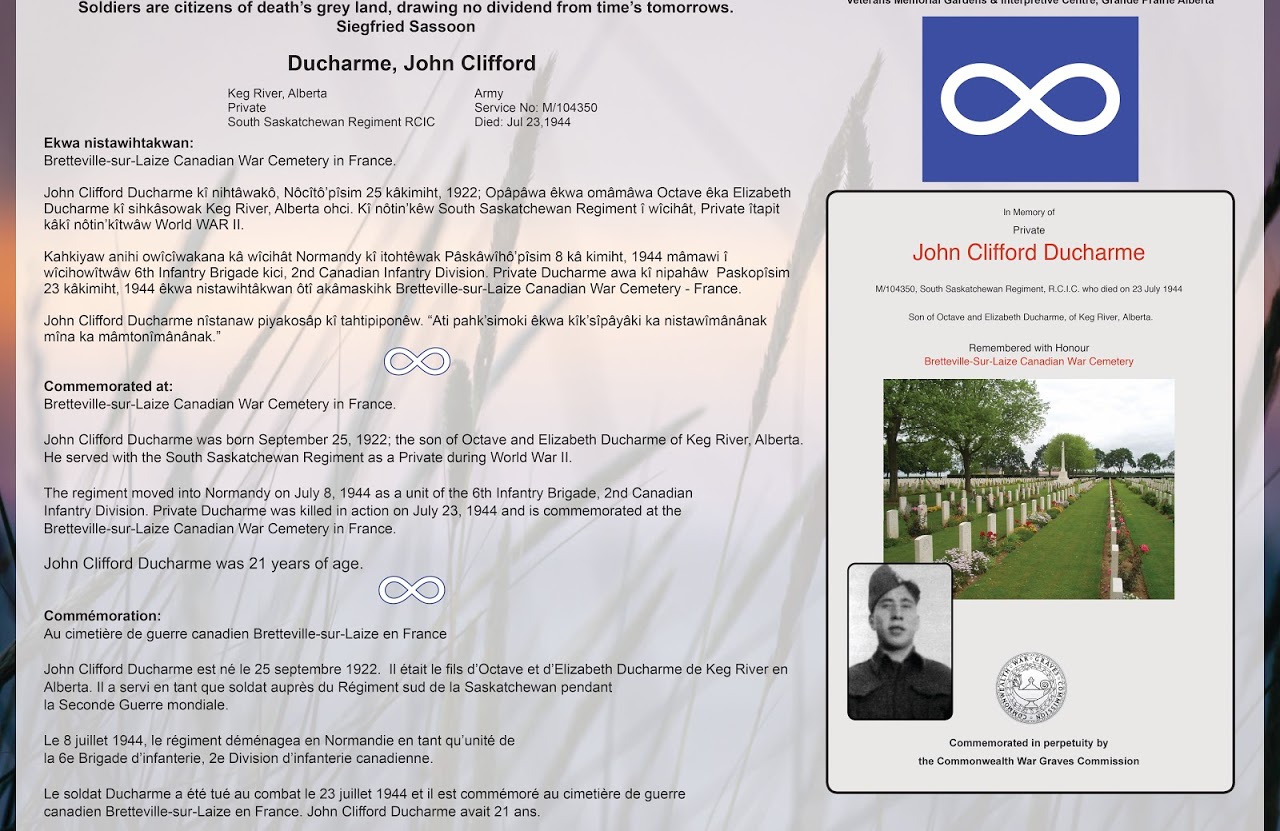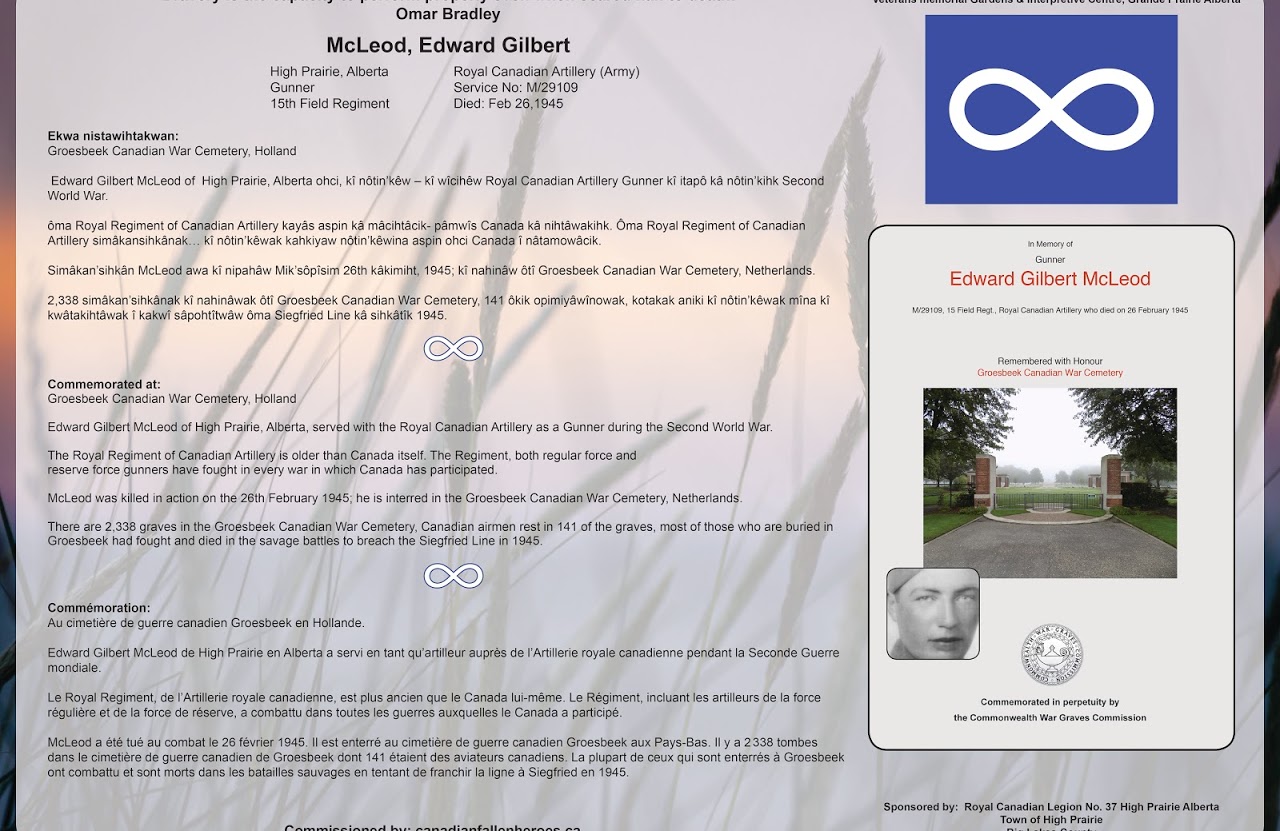 Our 2019 Sponsors & Supporters